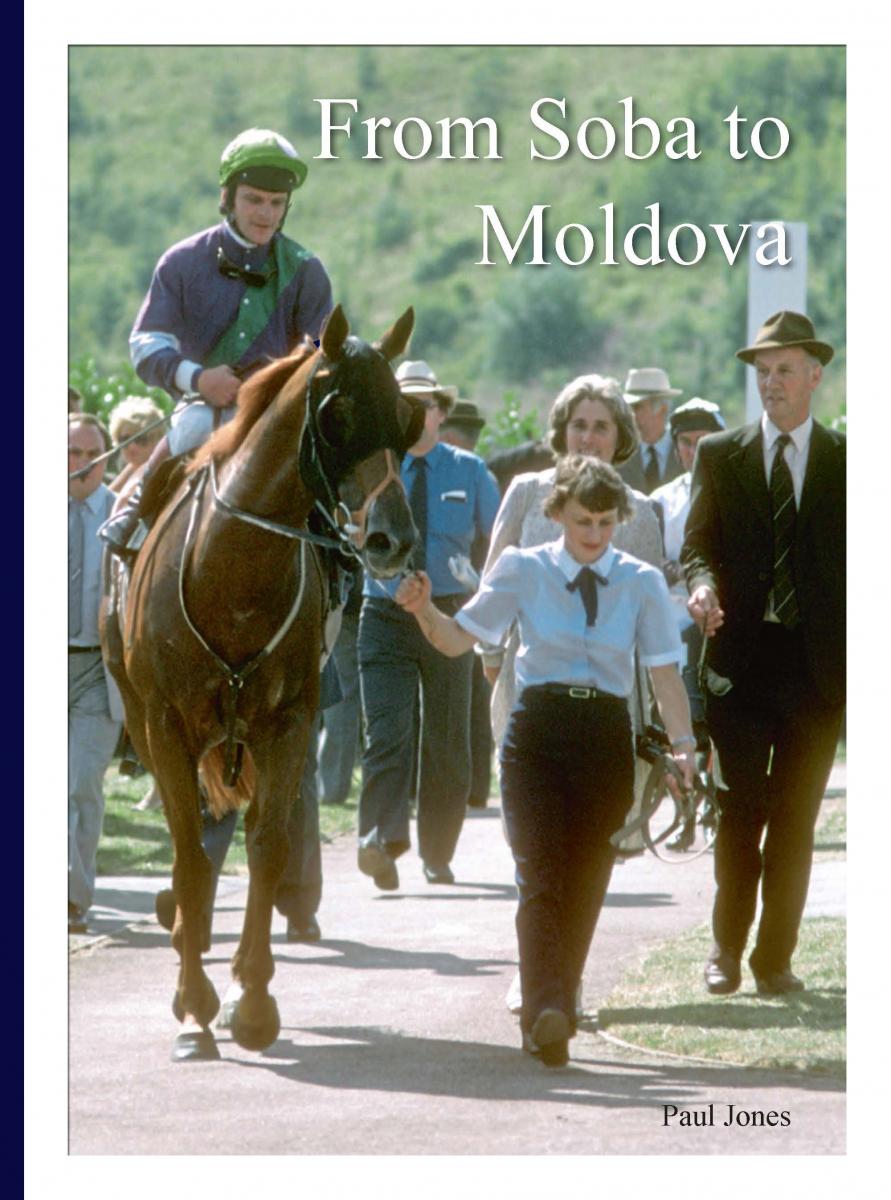 Paul's self-published book (the Introduction for which appears directly below followed by the 'Adapt Or Die' chapter), FROM SOBA TO MOLDOVA, is available to order for £15. Published on February 26th 2018, it features 20 chapters on his punting theories and philosophies. To order a copy please use the Get In Touch section at the bottom of the Home Page.
Introduction
Do I make annual profits betting on horse racing and sport? Yes. Are those profits reflective of the hours of my life I have dedicated to betting and watching sport? Not even close. Will I keep on punting regardless of effectively not getting value for that time invested? Until the day I die as it's my main leisure pursuit and "money won is twice as sweet as money earned" as Fast Eddie Felson declared in The Color Of Money. Therefore to increase my enjoyment, discipline and profitability, I have written From Soba to Moldova in an endeavour to improve my betting methods.
In his book One Hundred Hints For Better Betting, the founder of Pricewise, Mark Coton, sneaked in a line towards the end that resonated more with me almost a quarter of a century ago than any of his headline hints which perfectly encapsulated what I and the vast majority of fellow punters ought to do: "Rather than aiming to become a professional punter, we should be seeking to punt more professionally."
In writing this book, this is exactly what I am attempting to do. Not in a preaching manner as I did not write it from my yacht in the Bahamas, so therefore it was drafted as much for my own benefit as hopefully for those who read it. I am not saying that this is the way to do it but I am saying this is the way I am trying to do it. Predicting the future isn't easy. Alex Bird was one of the most revered names in professional gambling of the twentieth century and he only worked on a 2% profit on turnover before betting tax was introduced.
I have also written this book very much with members of pauljoneshorseracing.com in mind, many of which have been very loyal to me from my early Cheltenham Festival Betting Guide days and spin-off services. As such, as you have invested so much in me down the years, I have included elements of my back story to give something extra back, which also enables me to fire off on various tangents.
I have bypassed all the obvious guidelines like don't chase losses, keeping records, don't bet and drink at the same time, la-di-da, as not only are they too evident for this book, which I like to think goes deeper than the obvious, they have also been very well covered elsewhere. Therefore I have aspired to go into detail about some of my less-discussed betting theories and philosophies covering the major racing festivals to the Eurovision Song Contest. They are certainly not rules as such, in fact, if there is one golden rule then it's don't set rules. I much prefer guidelines for more flexibility.
You won't agree with everything in this book, the art of punting would be a very boring place if you did, but I hope you take plenty from it, like I did from reading bountiful racing and betting literature down the years, to which I make plenty of references to within the 20 chapters.
Chapter on 'Adapt Or Die'
In any walk of life if what you are doing is just no longer working then try something different, otherwise your inability or unwillingness to change is likely to meaning facing the consequences. It's exactly the same with punting. Just ask those who think that it is still a great idea to back a 2½ miler in the Grand National, Arsenal to win 1-0 or cricket test matches to end in a draw. By the way, that's 48 years and counting now since Gay Trip won at Aintree back in 1970 but you'll still hear that same tired line trotted out time and time again in the build up to the race.
Players, managers and jockeys altering tactics during any given sports encounter can work for those who are prepared to adapt to the changing circumstances, so why not in punting if your tried-and-trusted methods just don't work as well as in previous years for whatever reason? That said, it never ceases to amaze me how many tennis players don't change tactics when they are palpably being played off the court electing to stick to their pre-match plan. In darts, players will stubbornly stick to their favourite finishing double even if they are having a nightmare on it, not wanting to show their opponent any weakness, but that rarely produces the right result and will infuriate anyone who has backed them.
Padraig Harrington is one of golf's great thinkers and I'm sure that he will make an excellent Ryder Cup captain one day. I was very much taken in an interview before The Masters that he commented that players should have worked out in advance what to do at every hole depending on any number of factors such as the state of the leaderboard, weather conditions and how good they are feeling with their game etc. In other words, he had a back-up plan about how he should adapt to all manner of changing circumstances for each hole. The Masters probably isn't a good example as Augusta has never been his course but you can bet your bottom dollar that he had a similar plan for The Open Championship which he won twice in his prime.
The Effects of the Draw and Backing The Draw For Profit were written by Graham Wheldon who I shared digs with back in our Raceform days. When I asked him for his views on the draw these days and how it has altered for the purposes of this chapter he felt that there was no longer any straight-line draw bias in Britain at all anymore due to better watering systems, but he certainly made hay whilst it did as he has lived a semi-retired lifestyle since his early forties, spending much of it in poker tables in Vegas.
The long-standing BHA Handicapper, David Dickinson, was another to latch onto the draw bias early and notably at Thirsk in the 1980s and 1990s where he copped a huge tri-cast on the Dick Peacock Sprint Handicap playing the massively-favoured stands' side runners before others cottoned on. Once similar forecast bets that centered around the draw started to become a popular and fruitful betting past time, bookmakers then made up a new rule that they could reduce winning dividends for punters sticking to all-low or all-high numbers in forecasts and tri-casts etc. taking away that big value edge, so then those punters had to adapt to try and stay ahead of the game. Disgraceful really.
I used to compile Dickinson's ratings for the Raceform Private Handicap which indicated with plus and minus signs which horses were best or worse 'in' compared to official ratings and then post it out to subscribers on a weekly basis. Mad as a hare, Dave, with some very questionable musical tastes but he knows his stuff and even tipped up Sublimity at 50/1 on a Cheltenham Preview Evening a week before he won the Champion Hurdle at 16/1. Given that he was the official Handicapper for two-mile hurdlers at the time, I hope that plenty of the London Racing Club audience took note. As I refer to in the Internet Research Tools chapter, you can read his thoughts on the BHA Handicappers' blog on Attheraces or the BHA websites.
There is always some loudmouth who wants to spoil a good thing and I can probably be accused of falling into this category when I decided to write a trends book on the Cheltenham Festival thus impacting on that fruitful angle which trends followers enjoyed for years beforehand. As such, we need to keep looking for new angles given how quickly the market can adjust to old ones or, as put in another way in the introduction to Bet With The Best published in 2001 by The Daily Racing Form who interviewed nine successful horseracing punters, or handicappers as they are referred to in America: "The sport is constantly changing and your opponents are getting better. If you don't keep up with those changes, you'll get left behind."
Cheltenham Festival on the Change
There is no better example of having to adapt to stay ahead than when evaluating race trends at the Cheltenham Festival compared to when I first started writing the The Cheltenham Festival Betting Guide at the turn of the century. There is no question whatsoever that the market finds the 'trends horses' much better now as more punters take note of them given the far greater exposure that they now have in large part due to that book, so the edge in terms of odds has largely disappeared. This is part reason why I explain in the chapter on 'Use Trends in the Right Way' that, although I still respect and use trends, I am not as sold on them as over a decade ago.
Adapting to new trends is particularly important as some can turn round full circle in a very short space of time. Before the drainage system was brought in at Cheltenham around ten years ago, I was advocating that we very much look to staying types in the Gold Cup at big prices to hit the frame arguing that it is not always the best horse that we should be looking for in jump racing's blue riband but the horse that stays best. That was part reason why I latched on to Cool Ground and Cool Dawn when they were 25/1 winners and Truckers Tavern (2nd at 33/1). There have been far more embarrassing throws at the stumps on stout stayers at big prices since then but they wouldn't total up to anywhere near 50 (25/1 x2) so the original thinking was a good one, especially as we are always more likely to obtain inflated odds on staying types as they lack the sexy profile many punters look for.
Latterly though, following the same method of thinking would see your strong stayer failing to even lay up as the speedier horses that did very well over two miles as novices like Best Mate, War Of Attrition, Kicking King, Kauto Star and Sizing John (seven-year-olds all) started to take over with only Synchronised properly fitting into the former category of out-and-out stayer. Maybe also Long Run, though he possessed out-and-out class to go with it.
Other notable turnaround trends at the Festival include the Supreme Novices' Hurdle which is now being dominated by ex-bumper horses (win and place) rather than those from the flat that had a great run up until fairly recently and the Reynoldstown going from a wretched RSA trial to now the best in Britain.
Most significantly of all however is the emerging class factor in the handicaps. During the 1980s and 1990s the best way to back a Cheltenham Festival handicap winner was to start analysing a race from the foot of the handicap and work your way upwards but that has changed drastically over the last half a dozen years. Take a look at the most recent Cheltenham Festival handicaps (2017) where the domination of the Irish was the main talking point winning seven of those ten races in addition to their extraordinary achievement of bagging another 11 races on top including four of the big five. So much for the much-discussed anti-Irish bias from the BHA Handicappers then! What I found more important about the handicaps going forward, however, was just how well the higher-weighted horses performed and the top weight in particular.
In a section of my 2015 annual I quoted David Pipe when he summed up the emerging class factor in festival handicaps when discussing Ballynagour's victory in the 2014 Plate commenting: "His festival win reinforced my theory you basically need a Graded horse to win one of the handicaps at Cheltenham nowadays; that's how competitive they are." Subsequent events in that spring would have strengthened Pipe's view further still as of the 11 handicap winners at that season's festival, as many as eight then ran in a Grade 1 race on their next start with three winning (Holywell, Whisper and Lac Fontana) and three more placed (Ballynagour, Don Poli and Savello). Balthazar King also finished second in the Grand National next time out.
Running through the 2017 handicap results at the Cheltenham Festival, two of the ten top weights won (Un Temps Pour Tout in the Ultima and Arctic Fire in the County Hurdle) and two more were beaten into second beaten under a length (Divin Bere in the Fred Winter and Pendra in the Kim Muir). The second-top weight in the Fred Winter, Project Bluebook, also hit the frame. In fact, when Arctic Fire (rated 158) won the County Hurdle, it was the second-top weight, L'Ami Serge (rated 152), who finished second, and this in a race where only two winners since 1960 had carried over 11st 2lb and only one winner since 1998 had won off a mark of over 145!
As for the other winning top weight, Un Temps Pout Tout (rated 155) became the first winner of the Ultima to be rated over 150 since as far back as 1983 and it was also a 154-rated horse in Noble Endeavor who finished third. For 14 straight years the Ultima winner was rated no higher than 143 but the last four winners won off 145, 146, 148 and 155. In 2017 the 1-2-3-4-5 were all rated 148+ so this a race where the class acts are starting to take over.
And what about the Pertemps Final with all the hoo-ha over Presenting Percy's handicap mark being one of the talking points entering the festival with his connections arguing that he had no chance? In dotting up off a 16lb higher mark than for his previous win in Ireland, he carried second-top weight of 11st 11lb and it was another Irish raider in Jury Duty who finished third off a big weight (11st 10lb). Three years earlier the top weight beat the second-top weight into second.
As for the Plate, in the previous 30 years only two winners were rated 143+ but the signs were there in 2016 that we could be in for a big change as the 1-2-3 were rated 142, 149 and 150. And what happened a year later? A 1-2-3 for horses rated 145-146. The Fulke Walwyn Kim Muir has been a good race for those at the top of the weights for a good number of years now and the top weight, Pendra, looked the winner for virtually all of the last mile bar the final 75 yards. The second-top weight, Mall Dini, finished a close-up fifth but really should have won with a better ride.
Modus also ran well off top weight in the Coral Cup finishing sixth in a race where a couple of 148-rated horses filled the first two places. That is significant because the first 20 winners of this race were rated under 148 up until 2013. And to end the meeting, it was the 147-rated Rock The World that took the Grand Annual thus equalling the joint-highest mark carried to victory in this race in 26 years so, make no mistake about it, the handicaps are a very different animal now.
I don't like to be tied down to rules but there's a big case now for the festival handicaps over the next few years to concentrate our efforts on the top half a dozen in the weights, a suggestion for which I would have been laughed out of town even only five years ago and, if so, I reckon you'll find at least a couple of very tasty-priced winners.
Grand National
If I was to single out one race in terms of having to adapt our winner-finding approach, it would be the Grand National, a race that the outgoing BHA Head of Handicapping, Phil Smith, changed the face of, and very much for the better if wanting to protect its standing in the British sporting calendar.
As I have outlined elsewhere in this book, there are a number of long-standing trends for the Grand National that remain important but the two biggies of weight and age have become much less so since Smith was charged with making the race as open as possible. The weight argument has been done to death so for the purposes of this exercise I am going to concentrate on age, or more to the point, experience, or even more to the point, lack of experience as that factor has so far been overlooked by the vast majority given the profile of the last three winners. I dare say that if we have a few more winners like the second-season chasers Many Clouds, Rule The World and One For Arthur in the next few years, then it will become the next big trend and that will then be factored into a horse's price so we will need to adapt again to find the next new angle. Second-season chasers used to be one of the first collective group of horses I struck a red line through when analysing the Grand National. Now, it's one of the first things I consider.
Three years ago Many Clouds became the youngest winner since Bindaree 13 years earlier which was the first of many trends that the Oliver Sherwood-trained eight-year-old overcame to secure a famous victory. However, the nine-year-old Rule The World managed to even trump Many Clouds' trends-busting success by being a maiden over fences so he became the first novice (albeit a second-season chaser) to win since Mr What in 1958 and, for the third year running, it was a relatively young horse that came out on top via the eight-year-old, One For Arthur. Surely his 14/1 success proved popular with Guinness drinkers!
The evidence of those last three years suggests that looking for a vastly-experienced chaser is no longer the best punting policy for the Grand National given the recent race modifications. They have included replacing wood frames with EasyFix plastic birch and shortening the race distance. I'm still struggling to support a seven-year-old as their last winner was Bogskar in 1940. In fact, no seven-year-old has even placed in the first four since 1971 and only 12 of their 52 contenders have completed the course since 1992.
I used to like backing a horse aged 10+ in the Grand National and, prior to the 2015 running, eleven-year-olds had won for the three previous years but the last three results have made me turn full circle. The least amount of chases contested by a Grand National winner in the last 25 years is ten; One For Arthur last season, Many Clouds in 2015 and Numbersixvalverde in 2006. Although officially a novice, Rule The World was having his 14th chase start when successful.
In all races my overall feeling is that if you have spotted something before anyone else then make as much hay whilst you can as it is normally not too long before others also cotton on and the price edge is then lost.
Big International Race Days
Alan Shuback was one of the interviewees in Bet With The Best and his chapter focussed on how to approach the European-trained horses travelling over to run in America's top races. Bizarrely, he went on to describe 'us' as "inscrutable" which just shows how little they knew about our racing at the time. I'm not sure that Messrs. Stoute, O'Brien, Fabre and the Godolphin operation were that hard to work out then or now. It is certainly all change now as to how European-trained horses fare on the other side of the Atlantic compared to the early years of The Breeders' Cup so this meeting is a good example of how we should adapt our thinking as it is now considered a surprise, even by the American racing public, if the collective 'we' don't win the best turf races in North America. Fifteen of the last 20 runnings of The Breeders' Cup Turf have been exported to Europe to give the best example. Even average Group 3 horses over here can win American Grade 1 turf races earlier in the season.
With regards to massive, international race days like The Breeders' Cup and Dubai World Cup, this may sound like a strange assertion given that I made a point of knocking both off my bucket list last year of meetings to attend, but I would suggest treading very carefully when betting on these events as they are fraught with punting danger. It is hard enough trying to thread together different form lines from all over the world anyway, let alone in contests where luck in running plays a huge part in two-turn races and, in respect of the Breeders' Cup, trying to work out which horses might still be firing on all cylinders in as late as November all adds to the confusion.
As does not fully knowing how much effect taking drugs will affect a horse. The European record when 'our' trainers don't use lasix however isn't good but I was still staggered to learn that not one set of connections ahead of the Pegasus Cup in January 2018 took advantage of a 7lb allowance if they raced drug free. Aside from that being rather depressing, it doesn't half tell us how important a factor trainers believe the drug to be. It's the opposite in terms of timing for Dubai being a case of working out which non-Carnival horses will be ready in time. Just looking at the SPs of winners at those two meetings in 2017 tells us all we need to know; 66/1, 40/1, 20/1, 20/1, 18/1, 14/1, 14/1, 12/1 and 12/1 - these are not big-field handicaps but Grade 1s.
It used to be fantastic when we could attain far bigger prices about European-trained horses on the American pari-mutuel that was available in our betting shops (and how I rejoiced being a big Cumani fan growing up collecting on Tolomeo at 38/1 after he beat the great John Henry in the Arlington Million in 1983) but those days are more or less over. Therefore the adaptation for me in American races is to now stop looking for odds that are way out of line about European-trained horses on their PMU and instead try to find American horses that are way too big over here.
A year too late but World Approval would be a good recent example of that in the Breeders' Cup Mile as 7/1 looked to underestimate his chance after being victorious in his prep run during a season when the European milers headed by Ribchester, whose best form was on straight tracks where he could use his long, raking stride but he would be asked to go round two tight turns here, was our best hope in a weak year in that category. World Approval was always favourite at much shorter odds in America and won cosily at a final industry SP of 11/4 but he was nearer 2/1 in the States.
I do like to back the French at international meetings on oval tracks though. I thought that James Willoughby made a good observation when he gave his view that French-trained flat horses are trained for class, more often than not for a turn of foot, so in my view that makes them an attractive betting proposition in races over two turns where there is less time galloping at straight-line speed thus making the race not so much about stamina. Hence the number of 6f European-trained horses who head for the BC Mile. I also like the fact that French trainers often give their best horses a mid-season break so that they are fresher for the big-pot end-of-season races.
It probably wasn't the best Breeders' Cup that I attended as it took place at Del Mar for the first time, a track that makes Chester look galloping. Okay, that's a slight exaggeration but I'm not sure that they will be returning there in a hurry. I was also in the infield as tickets were sold out by midsummer being a course that can only hold around half the numbers of other BC venues so didn't quite get the experience that I was looking for. I spent a good chunk of the afternoon with what the locals would term as an 'old-timer' called Joe who looked like Doc from Back To The Future on a bad day, but as he told me that he had attended every Breeders' Cup since the first one back in 1984, I forensically went about picking his brains into punter mentality on the other side of the pond. As I make reference to in the Make Time to Read More Betting Literature chapter, it ain't much like ours.
Big Straight Course Handicaps on the Flat
Back in 2002, I was asked by Chris Cook, now a highly-respected racing reporter for The Guardian, if on behalf of Prince Rajsinh Rajpipla (aka Pippy…I had to google him upon writing this chapter and still didn't end up much wiser) if I would contribute to a publication called Counter Attack published by Raceform in aid of Racing Welfare and Rehabilitation of Racehorses.
I was amongst 45 other racing journalists and punters that were happy to take part and was included within the 'Taking A Fresh Approach' bracket - the idea of this section being that each contributor would bring their own specialised area to the book - mine being race trends. When the book was reviewed in The Racing Post by Jim Cremin, I must admit that amongst some heavyweight writers and racing folk of the day that I was as pleased as punch he singled out my article as one of the more thought provoking. Going into trends more deeply was a new concept back then but is part and parcel of racing coverage these days.
Under the sub heading of 'Once You Have Eliminated the Impossible' (the 'unlikely' would have been much more accurate), with regards to racing on the flat I concentrated my article on the draw in the big straight-course handicaps, arguing the case to oppose centrally-drawn horses. Below I have quoted paragraphs from that article and go on to explain just how things have changed in the intervening years, very much in line with the 'adapt or die' header.
"On the Flat, although there are a number of ways I like to eliminate runners, I find the most profitable to be via the draw in major sprint handicaps. In big-field events over a straight course, it is vital to be against horses drawn in the middle third. Not only do horses forfeit straight-line speed when tracking over to join one group or the other but, if their jockeys decide to stay put and race down the middle, they are usually in a smaller group and find it hard to gain overall control of the race." So far so good, though if I was writing it now I'd choose 'preferable' over 'vital'.
"This is certainly true of the big five straight-course handicaps over a mile or less (Lincoln, Royal Hunt Cup, Wokingham, Stewards' Cup and Ayr Gold Cup). Over the last ten years, only six of the 50 renewals have been won by a runner drawn in the middle third of the field, at a strike rate of just 8.3%. Clearly this falls way short of the usual probability laws, which suggest we should be hitting the target 33.3% of the time if we're selecting one third of the runners entirely at random".
Looking back over the last ten runnings of the same races at the end of 2017, that winning figure had risen to 15, so well over double of the renewals between 1992-2001. Possible reasons include more professional ground staff thus producing a more level playing field and watering systems on wide tracks now fully reaching to both extremes. When I spent a couple of seasons working on race days at Leicester in 2004/05, which is a particularly wide course for one of the smaller courses, I was advised by the management that on windy days I might want to think about tipping up horses drawn by a rail in straight-course races when giving my box talks as the sprinklers didn't reach the rails, dependent on which direction the wind blew.
Leading Handicap Chases
Within that same Counter Attack article, for national hunt racing I angled in of the poor performance of highly-weighted horses in the major staying handicap chases. We only need to gloss over recent Cheltenham Festivals highlighted earlier in this chapter to see how out of date that advice is now. Again, here is some copy from that article that was important intel back then but is no longer relevant to how racing has moved on and how, as punters, we must adapt our thinking.
"Over the jumps, I find the strongest negative trend concerns horses saddled with big weights in staying events. History tells me that it is remarkably difficult to give away weight to rivals that are, more often than not, more likely to improve beyond their current handicap mark. This is notwithstanding the likelihood that horses are far more likely to throw in the towel if carrying a big weight over extreme distances and often in testing ground. If we examine the five big staying handicap chases in Britain in the last ten years; the Hennessy, Welsh National, Grand National, Scottish National and Attheraces Gold Cup, on only five occasions has a horse carried over 11st to victory."
Since that copy went to press 15 years ago, the Attheraces Gold Cup has become the Bet365 Gold Cup and is a shadow of the race it once was and the Hennessy has become the Ladbrokes Gold Cup and ten of last 12 winners alone have carried over 11st. As far as Ireland's most prestigious handicap chase is concerned, last season witnessed a 1-2-3-4 for contenders carrying over 11st in the Irish Grand National after 21 years where only Bobbyjo carried over the same weight to win. Was that a one-off or do we need to start adapting fast?
---